qui_quae_quod
For you,

dixiebell12
! Thank you so much for the advice, support, and everything else over these last few weeks. I'm so glad to have met you. You're an inspiration! Also, thank you a million times over for all of the breathtaking, beautiful art you create and share with us all. *hugs* I'm afraid this turned out a bit angsty - I hope that's okay. I'll make you a happier one next time, promise!
Dixie likes Adrien Brody as Snape - so here he is! I think I lost some of the Brody-ness while painting though. This was done using the free program
GIMP
, though the hair was done in PhotoDraw. I've started posting my art to deviantArt, so you can find the full size image
here
.
Severus studied his forearm, the recent thrill of acceptance beginning to ebb away. He looked away as cold waves of uncertainty began to crash over him.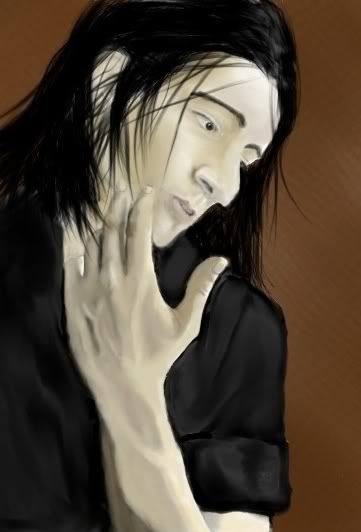 Original photo: